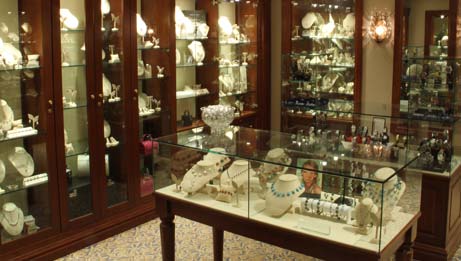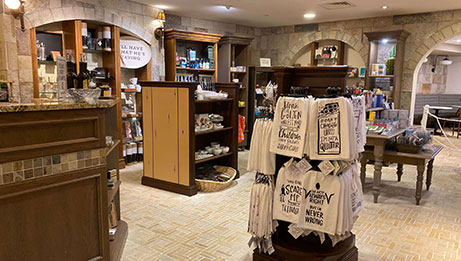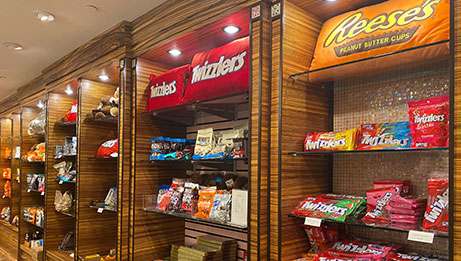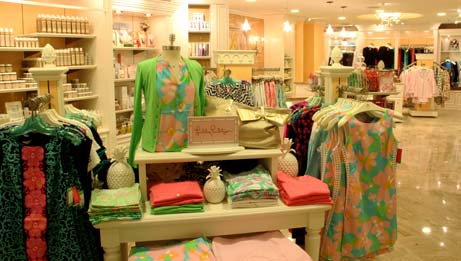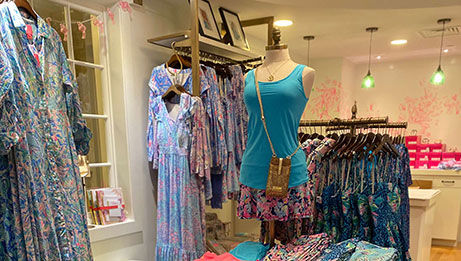 The Shops At The Hotel Hershey
The Shops At
The Hotel Hershey
The Shops At The Hotel Hershey feature an assortment of uniquely Hershey items ranging from fine jewelry to home décor, signature apparel, and delicious pastries. Hershey is truly a shopper's paradise!
Shop Online
Custom Logoed Apparel
The online custom apparel shop offers an extended collection of quality performance products. You choose the color and logo, and we'll take care of the rest!
View Store
Visit all the Shops
The Hotel Hershey features a collection of boutiques, offering a one-of-a-kind shopping experience.
The Jeweler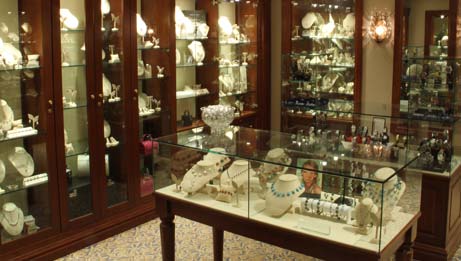 Browse everything from Chocolate Diamonds by Le Vian to sterling silver at The Jeweler, a long-standing favorite of Hershey locals and guests alike. The Jeweler carries the finest selections of jewelry boxes, watches, and jewelry, including Meira T, Roberto Coin, Alexis Bittar, and Links of London.
Learn more about The Jeweler
Hours
Sunday - Thursday: 9 AM - 6 PM
Friday & Saturday: 9 AM - 7 PM
Signatures - All Things Hershey
Signatures features Hotel logoed apparel for men, women, and children as well as gifts, souvenirs, and sundries. Home to our exclusive Waterford crystal Hershey's Kisses and custom Hershey Vineyard Vines accessories, Signatures has something for everyone.
Hours
Monday - Thursday: 7 AM - 7 PM
Friday: 7 AM - 9 PM
Sunday: 8 AM - 7 PM
A Storied Home - Distinctive Home Decor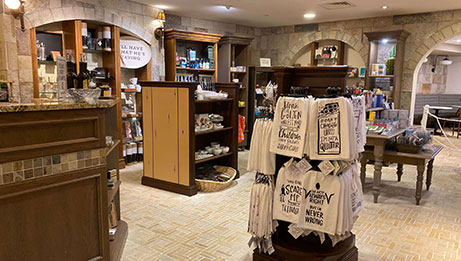 Find the perfect gift or home accent you've been looking for at A Storied Home. Choose from giftable aluminum entertaining pieces and signature items from Mariposa, decor from Chehoma, Ben's Garden, Fishe's Eddy, and more. A Storied Home also offers locally-bottled olive oils and balsamic vinegars available in single bottles or gift packs.
Hours
Sunday - Thursday: 9 AM - 6 PM
Friday & Saturday: 9 AM - 7 PM
Sweets - Confectionary Favorites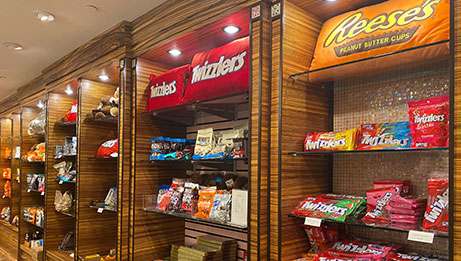 Enjoy freshly-baked treats and hand-crafted sweets in this delectable boutique. From signature cupcakes, to sea-salted caramels, to chocolate-covered strawberries, you'll find all of your favorites here. Sweets serves Mazzoli ice cream which is made right here in Hershey using the original recipes from Fred Mazzoli, the personal dairy chef to Milton S. Hershey!
Advance Orders Welcome. Please call 717-534-8837 with 24-36 hours notice.
Hours
Sunday - Thursday: 9 AM - 6 PM
Friday & Saturday: 9 AM - 7 PM
The Spa Boutique - Indulge at Home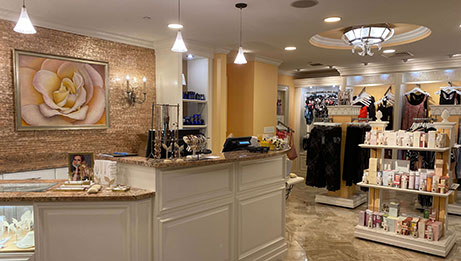 The Spa Boutique features a premium selection of exclusive Chocolate Spa products, the same products used for treatments at The Spa At The Hotel Hershey.
Browse our selection of scented candles, specialty bath and body products, as well as brand-name apparel from Sobyu yoga-wear and BedHead pajamas.
Hours
Sunday - Thursday: 9 AM - 6 PM
Friday & Saturday: 9 AM - 7 PM
Shine, A Lilly Pulitzer® Signature Store
Anything is possible with sunshine and a little pink! Shop our newly-renovated boutique to add a splash of color to your look.
Hours
Sunday - Thursday: 9 AM - 6 PM
Friday & Saturday: 9 AM - 7 PM